INSTRUCTOR BIOS 
2023 DULCIMER WEEK:   JEFF FURMAN, SUSAN TRUMP, LORINDA JONES, & BOB WEBB
Jeff Furman comes to us for his first time from Chapel Hill, NC. He is a multi-instrumentalist (mountain dulcimer, clawhammer banjo, guitar, autoharp, and string bass) who has played old-time music since 1980. As a banjo player for many years, Jeff developed a rhythmic and melodic style of playing that heavily influenced his dulcimer playing. He has an extensive repertoire of old-time fiddle music that crosses over to a strong interest in Celtic music. Jeff has performed at numerous fiddle festivals, concerts, public schools, and dances and played on multiple recordings including music from Ireland, Scotland, the Appalachian Mountains, and American folk tunes.
Jeff has won numerous dulcimer competitions in North Carolina and Virginia. Most notably, he was Champion Mountain Dulcimer player at the Fiddler's Grove Festival in Union Grove, NC numerous times, and he has also won awards on the mountain dulcimer at the prestigious Old Fiddler's Convention in Galax, Virginia. Jeff's playing has been described as fluid and expressive, and, in his hands the mountain dulcimer becomes an instrument capable of creating a wide array of moods, emotions, and feelings.
Known as a gentle, entertaining, and effective teacher, Jeff's versatility has enabled him to teach dulcimer workshops from beginner to advanced levels. Consistently rated as an outstanding teacher and performer, Jeff has been a popular instructor at workshops throughout the United States. He has recorded six CDs, including four with his wife Janet, that cover Appalachian, Celtic, old-time, ballads, hymns, and children's music. Their most recent, Celtic Jewels,was released in 2015. Jeff recently retired as a family physician in private practice in Chapel Hill.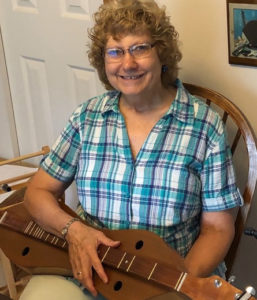 Susan Trump taught at our second Dulcimer Week in 2012 and came back for our tenth! We're so glad she can join us again in 2023. Susan is a much sought-after instructor and performer whose work has included The Old Songs Festival, NY; Glen Rose and SAM Fest, TX; Appalachian State University, Boone, NC; Heartland/Heritage Dulcimer Camp, MS; The Buckeye Festival, OH; The Ozark Folk Center, AR; and Kentucky Music Week, among other festivals and dulcimer events nationwide. She has won awards in both banjo and mountain dulcimer competitions. She is known for her singing, her outstanding instrumental skill on the mountain dulcimer, guitar and banjo, and her clear, relaxed teaching style. Susan's magic stems from her ability to link the pastoral, tranquil images of traditional rural America to our contemporary life. Her songs touch the heart, recall the past, and inspire the times ahead. Her sense of humor always adds a fresh touch to her performances, combined with her outstanding artistry on the mountain dulcimer, guitar, banjo, and fretless banjo.
Susan offers the popular subscription series, "Lessons in Your Living Room," which includes arrangements for novice, intermediate-plus, back-up chords, duet parts, introductions and endings, with TAB and instruction for all parts on CD. She has authored several books including Classical Collections and A Novice Level Chords and Fingering Book with instructional CD. She is the producer of Volumes One and Two of the classic Masters of the Mountain Dulcimer CD series, featuring instrumental selections from many of the finest players in the country. In addition, Masters of the Mountain Dulcimer Play Music for Christmas was released in November, 2007.
Susan has also released four best-selling solo CDs, What the Hill People Say, Tree ofLife, and Live at Caffe Lena, which captures the excitement of one of her sold-out weekend performances at the longest running coffee house in the country. Her newest CD, Songs of Faith and Hope, a collection of inspirational, uplifting songs for everyone is being touted as her best ever!
Lorinda Jones is a mountain dulcimer and Celtic harp player who lives near Elizabethtown, Kentucky. She first became interested in the mountain dulcimer as a music educator in the public schools. Her first self-published books were developed as instructional and song materials for her classroom and ensembles. As she began teaching adults, she continued to arrange music to meet the needs of her students. She formed the Heartland Dulcimer Club, now an active non-profit organization striving to preserve the traditional music of Kentucky and southern Appalachia. This group is active in the community, sponsors a traditional music festival, and under the guidance of Lorinda, has produced three traditional music CD recordings.
Since her initial involvement with teaching dulcimer, arranging music, and leading performing ensembles, Lorinda has gone on to have a successful solo performing career featuring the history and playing of the mountain dulcimer in Kentucky. Three of her books are published by Mel Bay Publications, five of her CD recordings feature the mountain dulcimer, and she is a contributing artist on both the Great Players of the Mountain Dulcimer CD produced by Michael Shull, and Masters of the Mountain Dulcimer Play Christmas, produced by Susan Trump.
Performing on celtic harp and mountain dulcimer, Lorinda has earned degrees in both music education and music therapy. She is a member of the Kentucky Center for the Arts' Arts in Healing program, and as a board certified music therapist, provides services for older adults with Alzheimer's and dementia, as well as programs for adults and children with developmental disabilities. As an extension of her music therapy and dulcimers in the classroom work, she has developed a method of teaching the dulcimer to special learners and a sequential program that uses colors, numbers, and an adapted approach for success.
Lorinda has taught and performed at festivals and camps across the United States, including Kentucky Music Week, Swannanoa Gathering and John C Campbell Folk School in North Carolina, Meadowlark Music Camp in Maine, and the Menucha Dulcimer Festival in Oregon.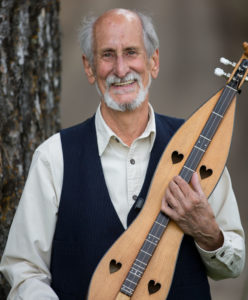 Bob Webb, from Joseph, OR, has played guitar and cello since childhood, and mandolin and mountain dulcimer for over 35 years. He has co-hosted Dulcimer Week in the Wallowas and taught its beginner class to rave reviews since 2011. A resident of Charleston, West Virginia before moving to Oregon, Bob was a member of National Public Radio's Mountain Stage house band for its first nine years, where he accompanied artists such as Odetta, Tom Paxton, Shawn Colvin, Bill Staines, Peggy Seeger and Arlo Guthrie. He taught over 700 children and adults in summer camps, churches, schools and community centers to make his own design of cardboard box dulcimer. In 2005, he and Heidi Muller co-founded of the Music Mentors after-school instruction program in Charleston that is still continuing today. Bob has taught at festivals including Kentucky Music Week, Colorado Dulcimer Festival, Berkeley Dulcimer Gathering, Wallowa Fiddle Tunes Camp, Ohio Valley Gathering, Gebhard Woods and Dulcimer Chautauqua on the Wabash. He has published instruction and tune books for dulcimer, mandolin and fingerpicked guitar. He performs with Heidi Muller in a duo and they have recorded four CDs together. As a recording engineer with his own studio, Bob has co-produced dozens of CDs for old-time musicians, jazz players, songwriters and storytellers and helped create award-winning public radio documentaries.
Heidi Muller is the organizer of Dulcimer Week in the Wallowas. 
 She has played dulcimer for over 30 years and taught at dozens of dulcimer festivals across the country, including QuaranTune, North Georgia Foothills Virtual Fall Festival, Kentucky Music Week, Berkeley Dulcimer Gathering, Dulcimer Chautauqua on the Wabash, Augusta Spring Dulcimer Week, and Northeast Dulcimer Symposium. An award-winning songwriter and guitarist, she performs both solo and in a duo with Bob Webb. Her song, "Leaving the Methow," was included on the Masters of the Mountain Dulcimer, Vol. II CD. She has recorded five solo CDs, four duo CDs with Bob Webb, and published nine dulcimer songbooks (including Duos, West Virginia Fiddle Tunes, and two volumes of Bill Staines songs for dulcimer) and one book of original songs arranged for guitar accompaniment. Please visit her website at heidimuller.com.