INSTRUCTOR BIOS 2024 DULCIMER WEEK:  
STEVE EULBERG, ERIN MAE LEWIS, MIKE ANDERSON, & BOB WEBB
Celebrating 40 Dulcimer-Filled Years, Steve Eulberg continues to produce the "smile-inducing, toetapping, thought-provoking folkgrass," which is how reviewers describe this award-winning instrumentalist and songwriter's music. He weaves together age-old songs and tunes with new melodies and contemporary lyrics accompanied by dulcimers and more. His 2022 book First 50 Songs to Play on Mountain Dulcimer, published by Hal Leonard, is a best-selling favorite among players of all skill levels.
"I live for the aha! experiences that people have and am dedicated to helping people enjoy their musical explorations on their instruments and share them with others," Eulberg says. Students respond enthusiastically to his engaging style and warm sense of humor, making him in demand at festivals across the USA.
A 5-time award-winner in the national mountain dulcimer contest at Winfield, KS, he is also a multiple finalist in the national hammered dulcimer contest. His music has been included in the Masters of the Mountain Dulcimer Compilations, Great Players of the Mountain Dulcimer, and has been featured on PBS' RoadTrip Nation, United Airlines Inflight Audio and NPR. He tours as a solo performer, and with the duos Fiddle Whamdiddle (with Vi Wickam) and Steve & Erin Mae (with Erin Mae Lewis).
He earned a Master of Music Education degree from Boston University in 2007 with a focus on teaching people to play folk music on folk instruments. He has published several books to equip and nurture dulcimer and guitar players. Active in the PNW Chapter of NARAS (Grammys) and Locals 423 & 1000 AFM (Traveling Musicians), Eulberg owns Owl Mountain Music, Inc., was the first guitar instructor on JamPlay.com, and is co-owner and teacher at dulcimercrossing.com.
Erin Mae Lewis is a freelance folk musician and mountain dulcimer teacher from Kansas who has carved her own path every step of the way. She won the 2004 National Mountain Dulcimer Championship at the age of 17, and has a degree from South Plains College in Commercial Music, where she was the first student to study mountain dulcimer. She continues today to be a leader of innovation and education in her musical community. Erin Mae's passion is to empower and equip others to find their own creative expression in the world.
A mountain dulcimer player since the age of 7, Erin Mae was also trained in classical piano. Her dulcimer playing style is drawn from 25 years of studying bluegrass, jazz, classical, and old-time Americana music. She toured full time for several years with the duo Scenic Roots and started recording albums in 1999. She has since recorded eight full-length albums and contributed to several other projects, including a feature-length television program. Though she has transitioned into private lessons and youth music curriculum development, Erin is well versed in music theory and continues to arrange pieces specifically for the Mountain Dulcimer. She offers this to her students as a way of unifying modern culture with the iconic American instrument.
Erin Mae is a cancer survivor, and this ordeal has instilled the knowledge that music brings powerful healing. The albums Quiet Sunshine & Honest were born of this life-changing event. She sees the need for music as therapeutic intervention in nursing homes, as well as consistent musical learning for children and young adults. One of Erin's goals is to establish community music programs for those who may need it most without placing any financial burden on the recipients.
Mike Anderson, from Jacksonville, IL, is one of the most versatile folk performers in the Midwest. A dulcimer player for over 40 years, he has a unique frailing style on traditional tunes, tells stories, and plays guitar, banjo, jawharp, bones, and more. He's taken his music, storytelling, and humor to countless libraries, museums, fairs, and festivals nationwide. Mike has released five mountain dulcimer music CDs, eight recordings for children and the young at heart, a live performance DVD, Christmas recordings in character as Hugo Kringle, and several books and audio books. An award-winning educator and author, Mike has been awarded several honors for his short stories and an award-winning children's television program that he wrote and hosted. His dulcimer teaching credits include the Ozark Folk Center, Autumn Dulcimer Daze, Folkcraft Second Saturday Series, Gateway Dulcimer Festival, Gebhard Woods Dulcimer Festival, Lagniappe Dulcimer Fete, Dulcimerville, Appalachian State University, and Western Carolina University. Encyclopedia Britannica also brought Mike to Taiwan for storytelling performances and teachers workshops.
With a Master's Degree in Education, Mike recently retired after teaching full-time for 43 years, mostly as a 3rd grade classroom teacher. He was one of five recipients statewide of a two-year grant for Storytelling for Literacy. Under the umbrella of the Literacy grant, Mike authored two books on the subject of storytelling for reading and writing literacy. He has written several articles on using storytelling and activities to alleviate children's fears, published in Children Today, a magazine that focuses on early childhood education. He conducts workshops for teachers, early childhood providers, and parents on the topic of storytelling for literacy throughout Illinois and around the country. He also has two chapter books and has authored 30+ picture books.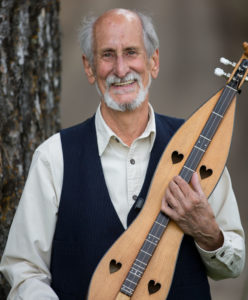 Bob Webb, from Joseph, OR, has played guitar and cello since childhood, and mandolin and mountain dulcimer for over 35 years. He has co-hosted Dulcimer Week in the Wallowas and taught its beginner class to rave reviews since 2011. A resident of Charleston, West Virginia before moving to Oregon, Bob was a member of National Public Radio's Mountain Stage house band for its first nine years, where he accompanied artists such as Odetta, Tom Paxton, Shawn Colvin, Bill Staines, Peggy Seeger and Arlo Guthrie. He taught over 700 children and adults in summer camps, churches, schools and community centers to make his own design of cardboard box dulcimer. In 2005, he and Heidi Muller co-founded of the Music Mentors after-school instruction program in Charleston that is still continuing today. Bob has taught at festivals including Kentucky Music Week, Colorado Dulcimer Festival, Berkeley Dulcimer Gathering, Wallowa Fiddle Tunes Camp, Ohio Valley Gathering, Gebhard Woods and Dulcimer Chautauqua on the Wabash. He has published instruction and tune books for dulcimer, mandolin and fingerpicked guitar. He performs with Heidi Muller in a duo and they have recorded four CDs together. As a recording engineer with his own studio, Bob has co-produced dozens of CDs for old-time musicians, jazz players, songwriters and storytellers and helped create award-winning public radio documentaries.
Heidi Muller is the organizer of Dulcimer Week in the Wallowas. 
 She has played dulcimer for over 30 years and taught at dozens of dulcimer festivals across the country, including QuaranTune, North Georgia Foothills Virtual Fall Festival, Kentucky Music Week, Berkeley Dulcimer Gathering, Dulcimer Chautauqua on the Wabash, Augusta Spring Dulcimer Week, and Northeast Dulcimer Symposium. An award-winning songwriter and guitarist, she performs both solo and in a duo with Bob Webb. Her song, "Leaving the Methow," was included on the Masters of the Mountain Dulcimer, Vol. II CD. She has recorded five solo CDs, four duo CDs with Bob Webb, and published nine dulcimer songbooks (including Duos, West Virginia Fiddle Tunes, and two volumes of Bill Staines songs for dulcimer) and one book of original songs arranged for guitar accompaniment. Please visit her website at heidimuller.com.